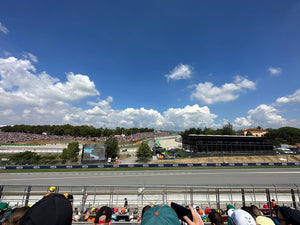 The Circuit de Barcelona-Catalunya
Formula One in Barcelona!
Hellooo!
I'm a new motorsport fan and we recently went to Barcelona to see the Formula 1 at the Circuit de Barcelona-Catalunya.
I absolutely loved it and just the atmosphere was incredible. Seeing so many people all supporting the sport, no matter what team they supported, was class.
It also gave me a chance to fully appreciate the other motorsport leagues, F2 & F3, especially with their different styles of cars and that there are a lot more drivers in them, compared to F1.
CARLOS
We quickly saw the smooth operator himself during our pit lane walk and he had his chili hat on!
ME
Pure genuine smile on the track beside the pit lane.
VALTERRI
We got a quick glimpse of Bottas as he cycled RIGHT in front of us!
MY NAILS
How unreal are my Charles Leclerc / F1 themed nails!!
We started the trip with a pit lane walk on the Thursday evening, which was incredible. We got close to Carlos Sainz & Valterri Bottas and I couldn't believe it!!
Unfortunately we did not meet Charles Leclerc and I wasn't able to show him my themed nails, but maybe someday.
We were then back for qualifying on Saturday and race day on Sunday! I didn't get a Ferrari podium as I wanted, but a Mercedes 1-2 was still excellent.
It was truly an amazing trip and we're already planning which race we will go to next year. (Maybe Hungary)